The Senior Pastors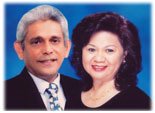 Welcome to Trinity Community Centre online…
It is our great joy and honour to have you visit our website and hope that you will be blessed by the Experiences that our Church has encountered especially through supernatural signs and wonders.

Naturally, all glory goes to our Beloved Lord for He alone is worthy to receive all "praises, honour and glory". Trinity Community Centre (TCC) is truly an apostolic Church where the needs of the deaf, the blind, the sick, the orphans and the abused are met and are being served. They are also built and fed spiritually on the Word that is shared in our weekly and main worship services. This enriches their values and relational fellowship with our Lord.

TCC continues to strive and to prepare the saints for the "soon second coming of our Lord" by equipping the saints with the unreachable riches of God's Word.

We are starting a prophetic school called "Glory School International" where students will be taught and equipped how to recognise their prophetic call and to adhere to the move of His Spirit. This school is open to all saints who sincerely desire to serve the Lord.
As you surf this website which is still in its infant stage you will observe the supernatural encounters that our God Himself miraculously intervened in the affairs of our Church as a beggar; multiplied our offering bag to help us purchase our building; multiplied our oil in a bowl; killed thousands of termites in order to save us cost; shook the government authorities to grant us approval of our new building and even moved the heart of a local government agency (MBPJ) to contribute RM 10,000 towards our building fund; and the list goes on….
We declare that the only reason why God moved so tremendously in our Church as in the days of the Acts is only because we have built our foundation on faith and prayers. These 2 ingredients have seen us through persecutions, struggles, threats and seemingly impossible situations. Therefore, "think it NOT strange why our Lord moves and responds to our needs so quickly with signs and wonders". The key (Mark 11:24), put simply is this – Prayers, prayers and more prayers….
I pray that you will be enriched supernaturally and your faith increased tremendously as you surf all the pages of this website. What He has done for us, He can do the same for you. He is NO respecter of persons. He is "the same yesterday, today and forever".
May the Love of God the Father, the Grace of Jesus and the Fellowship of the Holy Spirit be with you forever and ever. Happy surfing….

In His Service



Senior Pastors

Print Friendly